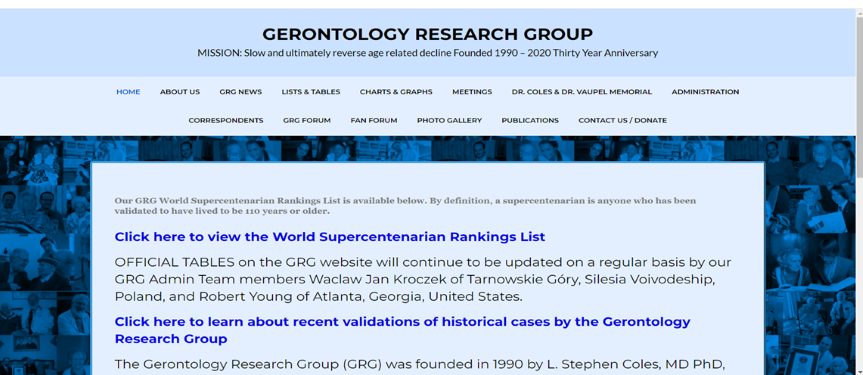 Overview:
Gerontology Research Group, or GRG, has been working to slow and ultimately stop age-related decline since 1990 and you can keep up with their research at SuperCentenarians.org. It's run and maintained by a global social science institution of researchers and the work they do on gerontology might just be the most important data that the world will ever know. While the work that still needs to be done is daunting, following along and keeping up with their advancements couldn't be easier for you. The site is very easy to use, and you'll be kept up to date with their work as well as interact with the team in the forums section.
That's not all that SuperCentenarians is about, though. The GRG is also majorly focused on verifying, validating, and recording super-centenarians. These are men and women who reach and surpass the age of 110 years old. That's a very important milestone and the people who reach it have a lot to offer the world. Simply recording their ages and locations helps advance the science as they work toward a world where age doesn't have to equal decline. It's just one more way to come together and we all journey on our way to 100.
Pros:
No Account Required
List of Related Publications
Easily Donate Money
Cons:
Forum Hosted on Third Party Site
Older Looking Site
News Stories can be Short
Intro:
SuperCentenarians is a very easy to use site that you can employ to stay up to date with the advancements made by the GRG, or Gerontology Research Group. Everything utilizes an older design scheme that any system will be able to access. The overall design is a blue background with black text that's easy to read, no matter what your age or eyesight happens to be. It's a great layout for any age so no one has to feel like they're being left out. The information they share about super-centenarians is laid out on tables to easily access everything you want to know. It's the best way to keep up with aging news so you always know what's going on and what the future of aging holds.
Fascinating Information
The biggest draw of Super-Centenarians is the sheer amount of information that you can get on the site. They make it very easy to understand so you don't have to spend any time trying to figure out what they're saying. It's all presented in charts and graphs to make it even easier for you. For instance, you can check out the graph representing the number of super-centenarians by their year of birth. They let you know the confirmed number as well as the unverified number. What's going to fascinate you is the way the numbers follow an interesting trend. Almost every year since 1850 has seen roughly the same increase with the highest number of super-centenarians being born in 1903.
Specific Tags to use
In addition to the facts you can learn on the site, they also have an active forum that you can take part in whenever you want. It's filled with people just like you who want to stay abreast of ageing news and see the trends as they emerge and change the world. It's the official forum for the GRG where you can find out what the group is doing and talk about the issues you care about the most. Each thread on the forum will give you the update of its last post so you know which ones are active and getting lots of traffic. All you need is a Facebook profile or email address to sign up and get in on the conversations.
Super-Centenarian News
Once you visit the site, you'll see a button for GRG News right at the top of the page. That's going to take you to an entire section dedicated to super-centenarian news. You'll be able to learn about the birthdays of people hitting the milestone of 110, as well as learn about the oldest people living in the United States and across the globe. You'll learn all about the oldest men and women around as well as get a small look into their lives and how they've spent the more than a century that they've been alive. It's all the inspiration you need to try to hit that major milestone on your own and get mentioned on the site.
Worldwide Correspondents
On top of all that, the GRG also has correspondents all around the world who report on age-related news and the people who make it to 110. That means that very little can happen without you learning about it on SuperCentenarians. They use people who live in the areas they report on and they enjoy gathering age information to share with the world. Click on the correspondents button and you'll see an entire list of the people who bring you the news to fuel their passions for aging news. These men and women are often responsible for validating ages and make the foundation of the site as strong as it can be. If you'd like to become a larger part of the site, you can apply to be one of those correspondents.
Final Thoughts
If you want to stay up to date on the latest age-related news, then the best place to spend your time is on SuperCentenarians.org. They have correspondents all around the world feeding them information that they get to share with you. On top of that, they work to validate the ages of super-centenarians. It lets you know how the world of aging is evolving and what might be in store for you as you live your life. There's also an active forum that you can join to talk with other people about any subject that interests you. There's no other site on the internet that makes the information so easy to understand while constantly updating it, so you always know what's going on. Check it out and you'll certainly be back!