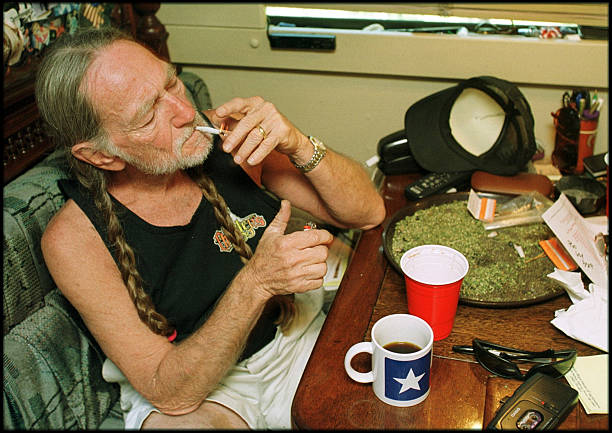 Early life
Willie Nelson, born Willie Hugh Nelson, is an American music icon. Born in Abbott, Texas, in 1933. Mr. Nelson did not get into music by chance. It is almost the only work he has ever known in his life. He was born during the great depression and picking cotton was a common activity. But since he did not like doing it, he had to find an alternative to make money and that is where music came in.
He was raised by his grandparents who encouraged him and his sister to play music. He went on to not only play instruments, but also to sing gospel music at his local Baptist Church. He would later drop this and play for bands in his teens and he even became a promoter at around the ages of 14 and 15. He remembers "Early in my life, I was a young promoter. I was putting together shows. Bob Wills, I hired for seven hundred and fifty dollars to play over in Whitney, Texas. I hauled a piano on the back of a pickup over, so that his band could have a piano. I managed to take in enough money and pay him. But I was only like fourteen, fifteen years old. And I got up to sing with Bob Wills! So, it was as good as it gets".
Entry into music
However, that was not the only thing Mr. Nelson did. He was also good in sports where he was a versatile player who played football, basketball and baseball. As he grew up, he served in the US Airforce and later on became a disk jockey in California, Texas and Oregon. He later on moved to Nashville, perhaps to get a piece of the music action. While there, he became a music writer. He wrote many hits such as Crazy and How Time Slips Away just to name a few but he was making little headway for himself as an artist.
Not satisfied with the reception he was getting, he said "I'd go back to Texas and play all those beer joints where I grew up and wouldn't have to change a thing. They all liked what I did. So, I knew that what I was doing, I could do it forever – whether I pleased everybody in Nashville, or not". He went back to Texas in the 70s. That is when he let his hair and bear grow long, giving him his present signature look. He was signed to Columbia and thus began his music climb. He got creative control over his own music and he basically did it the way he wanted. That is why his brand of Country Music came to be known as Outlaw.
In 1978 at the age of 45, Willie Nelson started smoking pot after giving up cigarettes and drinking whisky. He believed that move saved his life, because had he continued to smoke and drink like he had in his 30's and early 40's he would have never lived as long as he has. He also credits smoking weed as one of the influences that quote, "…kept me from wanting to kill people." Although he has reportedly quit smoking pot, he also admitted in a recent interview that he stays high, "pretty much all the time", which suggests he endeavors in other forms of recreational use.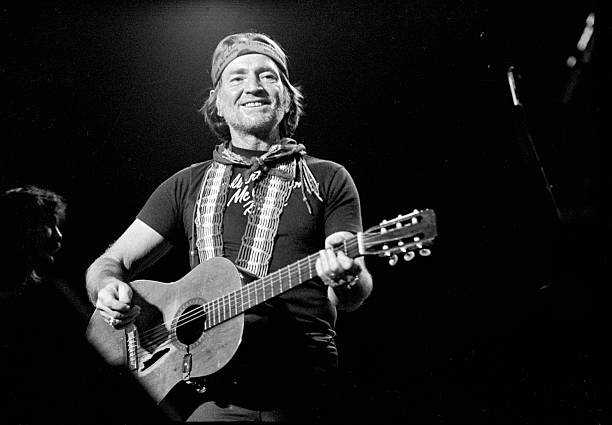 A testament to his versatility and the fact that he basically did whatever he wanted, Mr. Nelson has over his career collaborated with artists such as Ray Charles in Seven Spanish Angels, which is arguably one of the best collaborations he has done, and has 95 million views on You Tube. He has done a song with rapper Snoop Dogg, with whom he shares a love for Marijuana. He has also done songs with Julio Iglesias like To All the Girls I've Loved Before. Then there are the many hits he had on his own which include Always On My Mind, and On The Road Again.
Awards
Mr. Nelson, who has been married 4 times and who has 7 children, collaborated with a number of artists, and recorded many hits. Stardust, one of his best works, which is a collection of classical pop songs, sold over 4 million copies. As he climbed up the charts, so did his fame and fortune. This led to his numerous awards including 11 CMAs, 6 ACMS and of course his 12 Grammys. Induction to the Country Music Hall of Fame in 1993 proved his musical genius even though he branched out to start his own brand of Country Music at a time when he felt the industry did not want him or did not receive him well. The Grammy Lifetime Achievement Award followed later in 1999. Then in 2015, he won the Library of Congress Gershwin Prize. These are some of his major awards, but there are many more.
Tax problems
In 1990 the IRS came after him claiming that he owed over $16 million in back taxes. His assets were subsequently seized, but as a testament to his resilience, he was able to bounce back. In 1991, he raised part of the money he owed in taxes through an album titled The IRS Tapes: Who'll Buy My Memories.
Charities
Over the years, he has been a major figure in farming and marijuana circles. One of those is Farm Aid where he has been actively involved for over 30 years. The aim at the start was to raise money for family farmers, and the first concert they did raised over $9 million dollars. Besides this, they helped mobilize legislation for the passing of the Agricultural Credit Act in 1987 to help family farms from foreclosure. In addition to that, they have a disaster fund that helps farmers who have lost crops during natural disasters.
Another project close to his heart is the reforming of marijuana laws. He is the co-chair of the National Organization for the Reform of Marijuana Laws where they work to fight for the legalization of marijuana in the United States. He is a strong advocate of "Tax it, regulate it, legalize it". In fact, he has a popular song, called Roll Me Up and Smoke Me When I Die. He performed the song with Snoop Dogg, who is also known for his love of marijuana, at a concert to celebrate Willie's 90th birthday in April.  
Willie Nelson also loves horses. He has partnered with various organizations such as Habitat for Horses to not only adopt horses, but to advocate for their better treatment. He is one of those who advocated for the passage of the American Horse Slaughter Prevention Act.
He is an advocate of bio-fuel too and he even wrote a book on it. The book titled On the Clean Road Again: Biodiesel and the future of the family farm. He even put his money where his mouth is by partnering with Bob and Kelley King to build two biodiesel plants in Texas and Oregon. He also partnered with others to start up Willie Nelson Biodiesel, whose goal was to market biofuel made from vegetable oil.
For someone born in 1933, Willie Nelson is very progressive in his ideas, associations, and the causes he supports. He wants a cleaner environment and supports biofuel. He is for marijuana legalization. And he also supports LGBTQ causes, and at one time stated on The Texas Monthly, as far as the issue of LGBTQ "It's ridiculous to me that this is something we're having a conversation about this in this day and age. I thought it was something that was settled a long time ago…We'll look back and say it was crazy that we ever even argued about this."
Marijuana business
Besides advocating for the legalization of pot, Willie is also a pot businessman. He runs a successful business selling different forms of premium pot. His premium pot brand is called Willie's Reserve. The company famously raised $12 million to expand into other states in 2018. He attributes his breathing difficulties to abusive pot smoking practices but he has not entirely stopped using it. His spokesperson says that he consumes it in different ways as he cannot smoke due to his lung problems.
Martial arts
One of the little-known things about Willie Nelson is the fact that he is good at martial arts. When he was a boy he would order self-defense books he would find in the Batman and Superman books that he read. Most of them concentrated on judo and jujitsu which was popular at the time. He also practiced boxing and wrestling and learned Gung Fu. In his autobiography, he says Kung Fu taught him patience and "how to let things slide instead of trying to act macho". In a separate interview, he talked of his black belt status saying that "mainly it gives you enough confidence where you don't have to jump out there and get into trouble. If they bring it to you, you feel confident you can handle it".
He started Karate around the age of 60. His specialty is called Gongkwon Yusul, which is a form of Korean Karate. In the beginning he aspired to obtain his second-degree black belt, and on his 78th birthday he achieved that goal. In 2014 Willie earned his fifth-degree black belt at the age of 81. He still remains as active as he can and has no intention of quitting martial arts.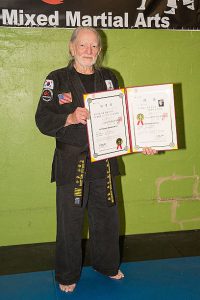 90th birthday celebration
Mr. Nelson had a great 90th birthday celebration with a huge concert staged for him. Some of the performances were his close friends and included artists such as Snoop Dogg, Chris Stapleton, The Chicks and Tom Jones among others as per USA Today's reporting of the Willie Nelson's Hollywood Bowl 90th birthday which was titled "Long Story Short: Willie Nelson 90".
Conclusion
He may not be as young as he was. He may not be as energetic as he was. But the fire is still burning in this iconic country music musician.
References
Alexander, B. (2023, April 29). 'Happy Birthday Willie': Keith Richards drops in on Willie Nelson's 90th birthday concert. Retrieved from usatoday.com: https://www.usatoday.com/story/entertainment/music/2023/04/29/willie-nelson-90th-birthday-concert-best-moments/11754882002/
Britannica. (2023, May 3). Willie NelsonAme rican Musician. Retrieved from britannica.com: https://www.britannica.com/biography/Willie-Nelson
Eaton, Q. (2023, April 17). Willie Nelson Reflects On His Black Belt Martial Arts Training: "All We Know How To Do Is Fight, F*ck & Throw Rocks". Retrieved from whiskeyriff.com: https://www.whiskeyriff.com/2023/04/17/willie-nelson-reflects-on-his-black-belt-martial-arts-training-all-we-know-how-to-do-is-fight-fck-throw-rocks/
PBS. (n.d.). Willie Nelson Biography. Retrieved from pbs.org: https://www.pbs.org/kenburns/country-music/willie-nelson-biography
Saad, N. (2019, December 9). Chill out: Famous stoner Willie Nelson hasn't quit pot entirely. Retrieved from latimes.com: https://www.latimes.com/entertainment-arts/music/story/2019-12-04/willie-nelson-quits-smoking-weed
STIERNBERG, B. (2019, January 29). 7 Things That Are Always On Willie Nelson's Mind. Retrieved from grammy.com: https://www.grammy.com/news/7-things-are-always-willie-nelsons-mind
Yost, B. (2022, October 16). The Real Story Behind Willie Nelson's Martial Arts Training. Retrieved from nickiswift.com: https://www.nickiswift.com/1056075/the-real-story-behind-willie-nelsons-martial-arts-training/
Zhang, M. (2018, January 31). Willie Nelson's Weed Company Raises $12 Million. Retrieved from forbes.com: https://www.forbes.com/sites/monazhang/2018/01/31/willie-nelsons-weed-company-raises-12-million/?sh=31ff605847e5