There's nothing wrong with a good smoothie when you're in the mood for something that's both refreshing and filled with as many vitamins as you need to hit your daily goals. They're easy to make and you can have one whenever the spirit moves you. Now that it's summer, you're going to be craving these fruity concoctions and looking for as many recipes as you can find. Just to keep things simple, we're just going to list the ingredients for these following suggestions. The directions are always the same and that's why they're so much fun to make. Just throw everything into a blender and run it until it's smooth!
16. Strawberry Banana Smoothie
First up is one of the most ubiquitous smoothies that you can find, the strawberry banana smoothie. It's a go to recipe that you can make every day and still enjoy like it's the first one you've ever had. Here are some tips first:
Don't use all frozen fruit. If you were to use both frozen strawberries and a frozen banana, you're likely to end up with a super thick texture more similar to my Strawberry Frozen Yogurt recipe. So instead, use fresh strawberries and a frozen banana. If you only have frozen strawberries, let them thaw before using.
Don't add any sugar. It's crazy that some recipes call for a sweetener with a full fruit smoothie. Mother Nature has given us plenty of sweetness in the strawberries and banana so there's no need to add extra sugar.
Make it with dairy or dairy-free. You can make this strawberry banana smoothie with dairy or dairy-free/vegan. I've got recipes for both homemade yogurt and a dairy-free coconut yogurt. You can also use regular milk or my cashew milk or any healthy store-bought dairy-free milk or yogurt options as well.
Don't add ice. Using a frozen banana in the recipe keeps the drink cold, but it doesn't water it down. Adding ice to smoothies makes them watery pretty quickly.
Here are the ingredients:
2 cups fresh strawberries, halved
1 banana, quartered and frozen
1/2 cup Greek yogurt
1/2 cup milk
15. Mango Smoothie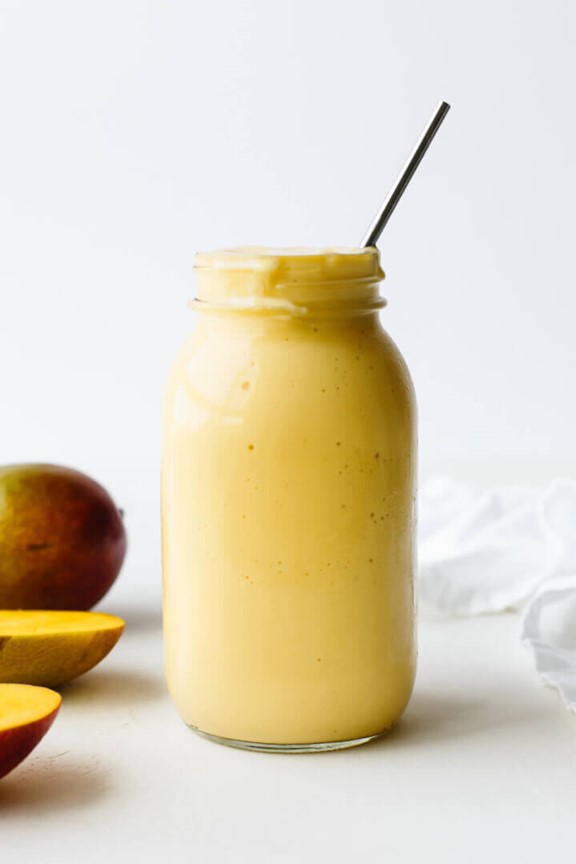 Then there's the mango smoothie. This is another popular one that you can find in most smoothie shops. It's a sweet mix of mangos and bananas that you're going to love from the very first sip.
Ingredients:
2 fresh mangoes or 2 cups of frozen mango
1 small frozen banana (or half of a large banana), you can use unfrozen if using frozen mango
½ cup milk, dairy or dairy-free
½ cup yogurt, dairy or dairy-free
14. Mandarin Breakfast Smoothie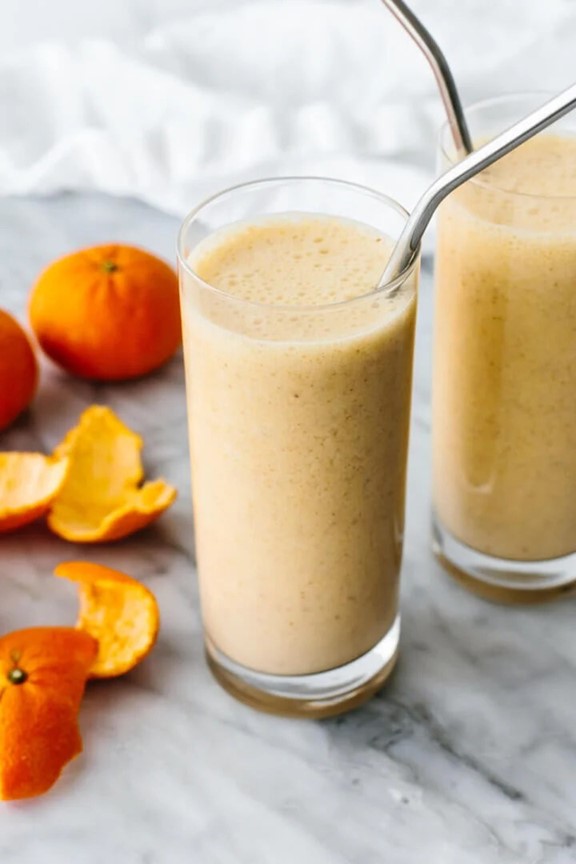 Next up is the mandarin breakfast smoothie and it's the best way to start your entire day. The first thing to realize is that you can use mandarins, tangerines, or clementines for the recipe. They're all flavorful and packed with energy to wake you up.
Here's what you need to make it:
1 ½ cups milk, dairy or dairy-free
1 cup yogurt, dairy or dairy-free
4 mandarin oranges, peeled
1 frozen banana
2 tablespoons ground flaxseeds
1 teaspoon vanilla extract
13. Strawberry Acai Smoothie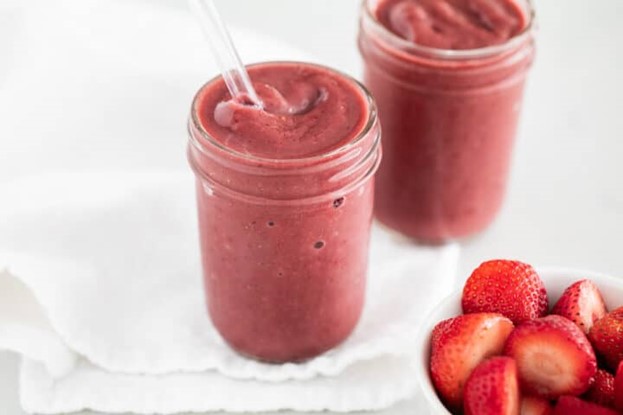 The strawberry acai smoothie is a favorite for many people because you don't need lots of fresh fruit to make it happen. All you need are some acai packets filled with dehydrated or freeze dried acai powder and you're good to go. What's most important here is how you pronounce the word "acai." If you walk into a store and ask for "a-KAY" powder, you're going to be doing it wrong. It's pronounced "ah-SI-ee."
Anyway, here are the ingredients:
3.5 oz. packet frozen acai
1 banana
1 cup strawberries
3/4 cup almond milk or cashew milk
12. Banana Smoothie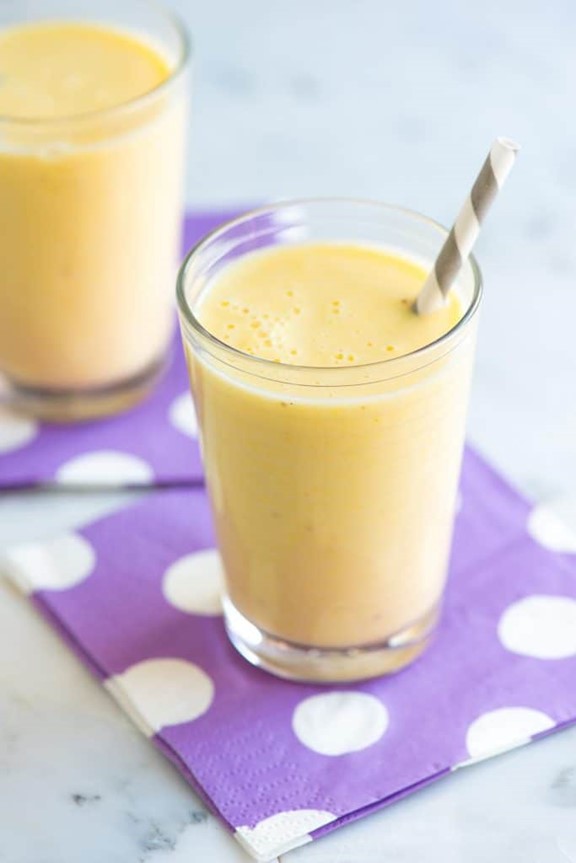 The humble banana smoothie is one of the simplest meals you can make. All you need are frozen bananas, the milk of your choice, and Greek yogurt. Then you just blend them together for an easy and refreshing way to enjoy a naturally sweet fruit. Frozen bananas make the smoothie extra chilled and replenishing on hot days. It should be your gateway drug into smoothies.
Ingredients:
2 frozen bananas (sliced in half before freezing)
1 cup milk
1 cup Greek yogurt (plain or vanilla)
11. Peach Smoothie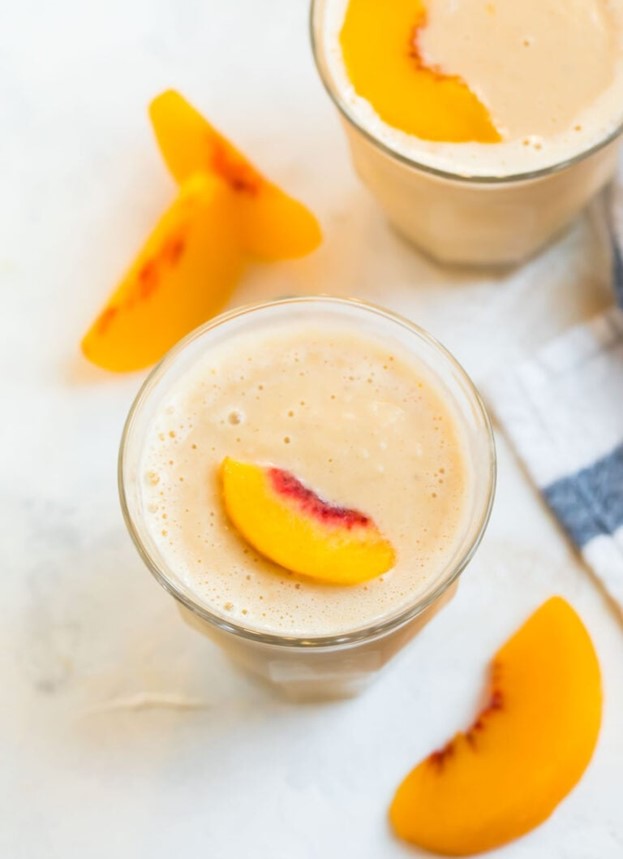 The Peach smoothie makes for a delicious and nutritious breakfast smoothie as it's blended with fresh peaches, yogurt, chia seeds and a few spices. With just a few ingredients and a high-powered blender, you'll have a healthy breakfast smoothie in minutes. What's great about it is that you can build it from the ground up by making your own, homemade cashew milk and grow your own vanilla beans, as long as you're in the right type of climates.
Ingredients:
3 peaches, pitted and quartered
1 1/2 cups milk, dairy or dairy-free
1 cup yogurt, dairy or dairy-free
1 tsp vanilla extract
sprinkle of cinnamon
sprinkle of ground ginger
2 tbsp. chia seeds, divided
OPTIONAL
honey or maple syrup to sweeten
collagen powder
10. Almond Orange Smoothie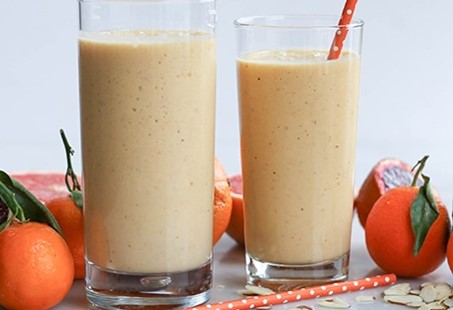 Almonds are a super food and you can't go wrong with them at all. The more almonds you can work into your diet, the better you're going to feel and there's never anything wrong with that at all. It can be both a great way to start your day as well as work as a midday snack.
Ingredients:
2 navel oranges, peeled
2 cara cara oranges, peeled
1 banana,, peeled
1 cup water
1 vanilla bean, scraped (or 1/2 tsp vanilla extract)
2 tbsp. almond butter
9. Green Smoothie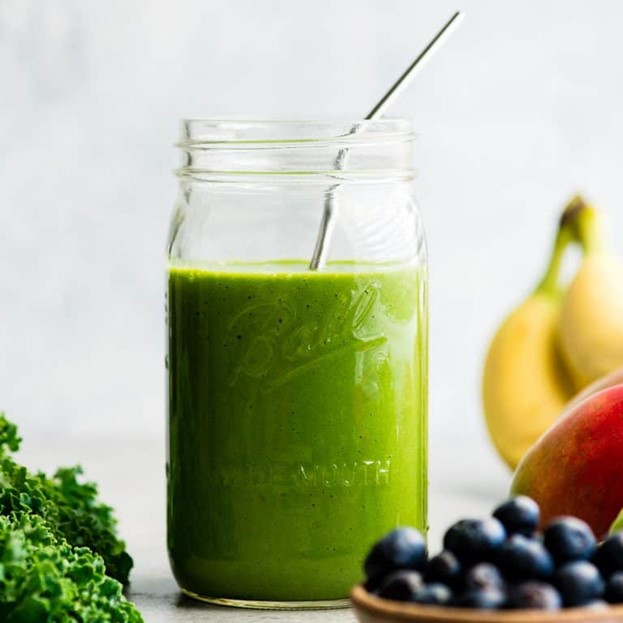 Many people already know that a green smoothie is the perfect thing to drink after your workout. It's packed with spinach, which is full of vitamins, minerals, and nutrients. Spinach is also a good source of protein, antioxidants and anti-inflammatory compounds, which are perfect for muscle recovery. It also has collagen, a protein found in the connective tissues of the body. Collagen is important for supportive structure of the body, such as muscles, bones and ligaments, and prevents them from falling apart.
Ingredients:
2 cups filtered water
2 cups baby spinach
1 banana, sliced and frozen
1 green apple
1/4 avocado
2 tbsps. collagen powder
2 tbsps. protein powder
2 tbsps. chia seeds
8. Blueberry Smoothie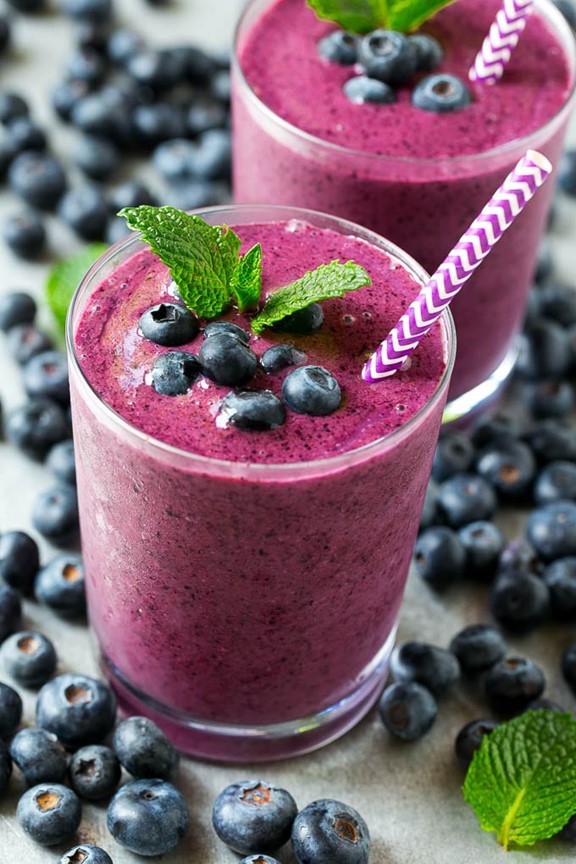 The blueberry smoothie is not only creamy, sweet and delicious; it's loaded with vitamins, nutrients and antioxidants. Made from just a handful of ingredients including blueberries, banana, coconut water, yogurt and flax seeds, it's a favorite healthy smoothie recipes. You can drink it as a refreshing beverage or take it with you for an easy breakfast.
Ingredients:
2 cups coconut water
2 cups frozen blueberries
1 frozen banana
1/2 cup Greek yogurt
1 tbsp. flax seeds
7. Cilantro Smoothie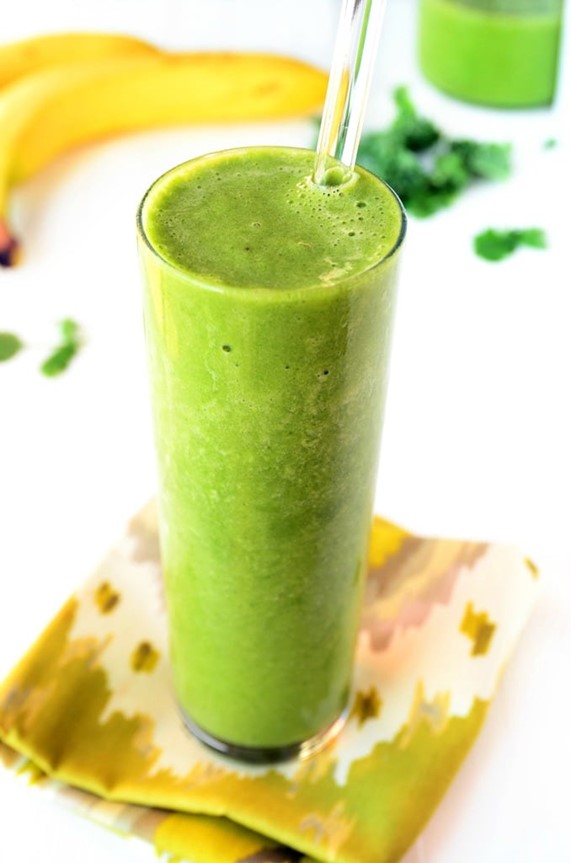 This cilantro smoothie is just what you need to cleanse and detoxify. Plus, it tastes delicious with ingredients like spinach, ginger, banana, pineapple, and kiwi. So if you're a big cilantro lover, consider this the newest addition to your smoothie repertoire. You don't have to be a cilantro fan, though. If you have that gene that makes it taste like soap, you're going to want to skip this one. Your other option is to give it a shot and see if the herb is better in smoothie form!
1 cup water
½ bunch cilantro, about ¾ cup lightly packed
1 cup (lightly packed) baby spinach
1 banana (fresh or frozen)
1 cup pineapple chunks (fresh or frozen)
1 kiwi fruit, peeled or unpeeled
½-inch piece ginger root, peeled or unpeeled
6. Turmeric Smoothie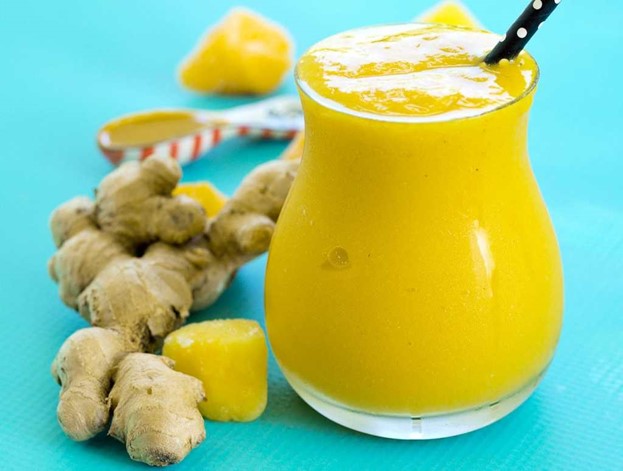 A turmeric smoothie is the perfect way to start your day. Tropical fruits are blended with immune-boosting ingredients to create a deliciously healthy drink. It's creamy, naturally sweet, and will have you feeling good from the inside out. Here's what you need.
Ingredients:
1 cup dairy-free milk
2 cups frozen pineapple chunks
1 banana
1 tablespoon fresh turmeric, grated (or 1 teaspoon ground turmeric)
1 teaspoon fresh ginger, grated (or 1/3 teaspoon ground ginger)
5. Cranberry Smoothie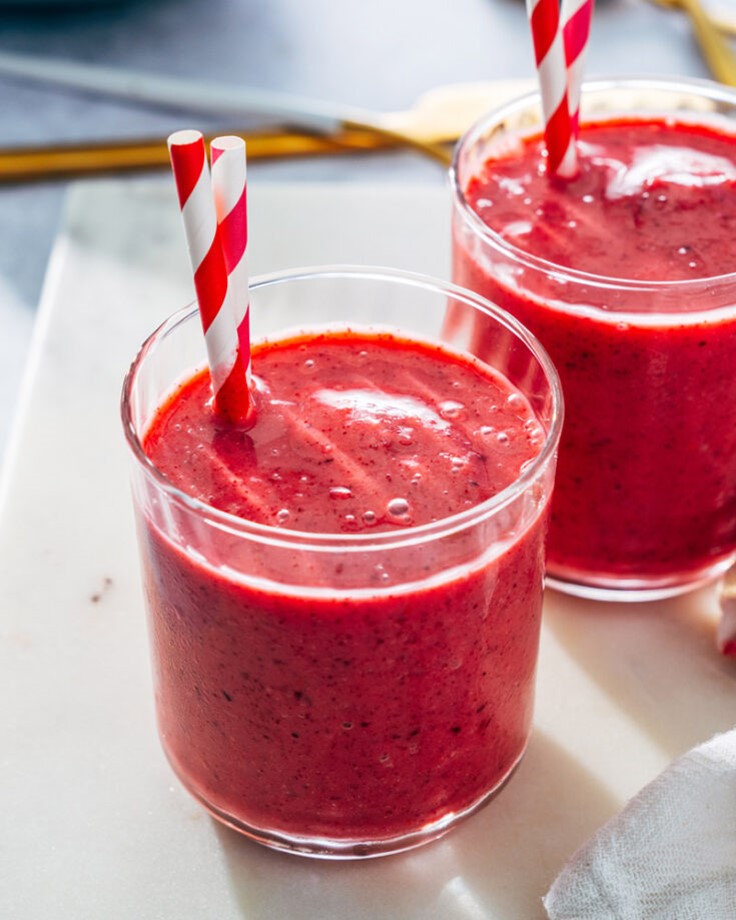 The cranberry smoothie is a great way to use leftover fruits to make a healthy meal that fills you with vitamins and minerals. Everyone has leftover bananas and oranges that they have no idea what to do with. This is how you can get the most out of them rather than just letting them sit on the counter for three weeks.
Ingredients:
1 cup milk (dairy or dairy-free)
1 cup fresh or frozen cranberries
1 frozen banana
1 orange, peeled
4. Apple Carrot Beet Smoothie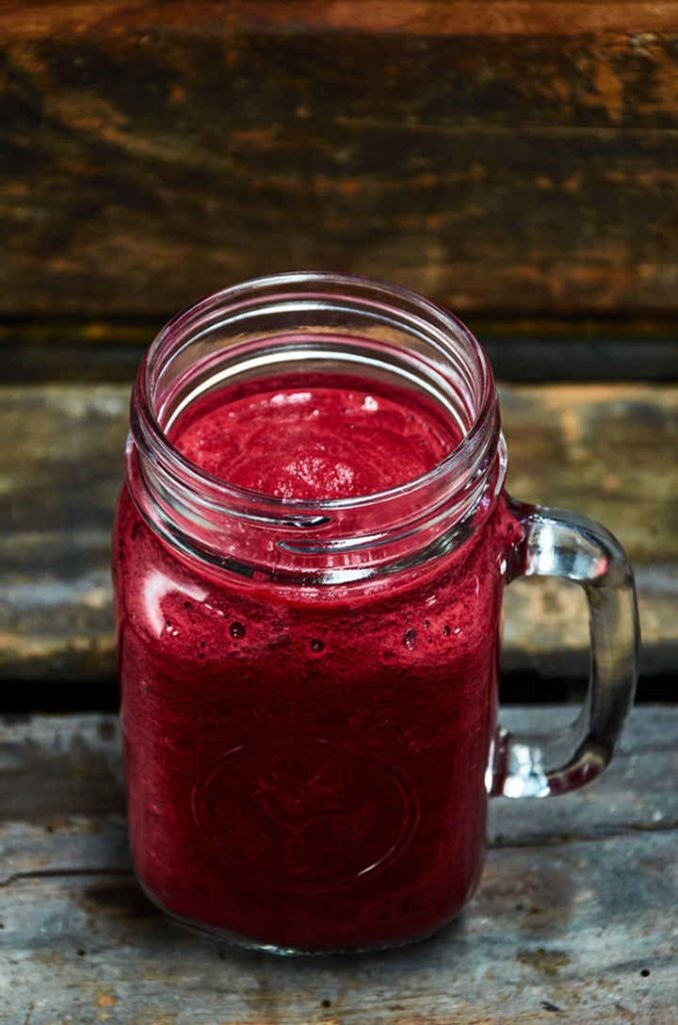 This apple carrot beet smoothie is brimming with antioxidants from its vibrant red color. This delicious combination of beets, ginger, carrots, orange, and apple delivers a range of flavor in a satisfying juice drink to enjoy at breakfast or as an afternoon snack to fill you back up with the energy you've expelled throughout the morning. You just can't go wrong with it and it will quickly become a go to recipe.
Ingredients:
1 red beet, medium, trimmed, cut into 2-inch chunks
1 apple, any variety, cut into 2-inch chunks
3 carrots, ends trimmed, cut into 2-inch chunks
1 orange, juiced
1 2-inch piece fresh ginger, peeled
1 cup cold water
3. Persimmon Smoothie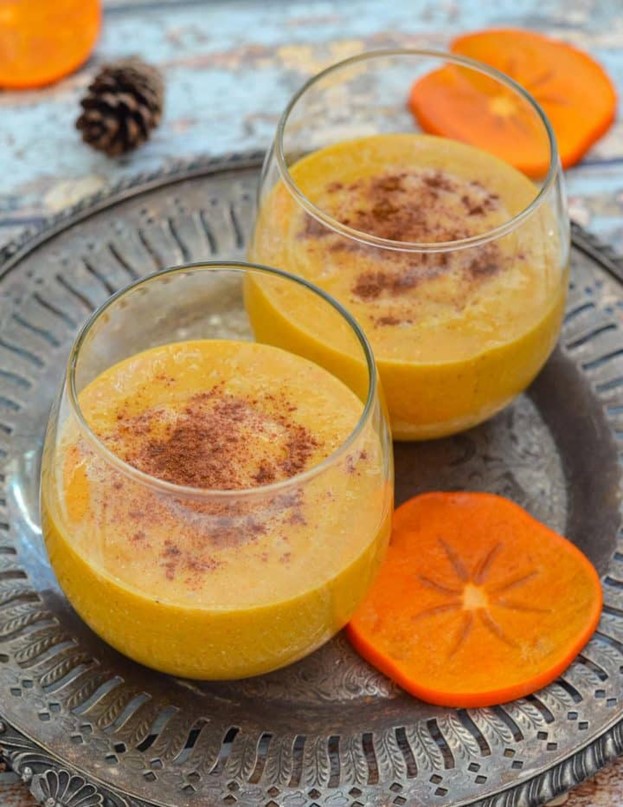 If you want to boost your immune system then you're going to want to try out the persimmon smoothie and you'll love the little bit of spice that wakes up your senses and fills you with energy. You can use either fuyu or hachiya persimmons for this recipe. Spiced Persimmon Smoothie is thick, slightly spiced and naturally sweet. It's a great smoothie and has all the flavors of any season.
Ingredients:
2 ripe fuyu persimmons
1 banana, frozen
1 cup almond milk, cashew milk or other nut milk
1/4 tsp ginger
1/4 tsp cinnamon
pinch of ground cloves
2. Golden Beet Carrot and Turmeric Smoothie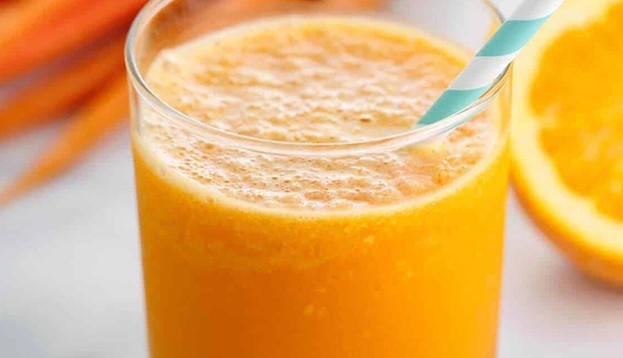 The golden beet, carrot, and turmeric smoothie is a power packed, vision-boosting, gut-healing golden beet, carrot and turmeric smoothie. It's loaded with beta carotene and nutrients. It has a really pleasant color that will work as a treat for your eyes and for your taste buds at the same time.
Ingredients:
2 golden beets, chopped
1 large carrot, chopped
1 banana, peeled, sliced and frozen
4 mandarin oranges, peeled
1 lemon, juiced
1/4 tsp turmeric powder
1 1/2 cup cold water
OPTIONAL TOPPING
1. Chocolate Collagen Smoothie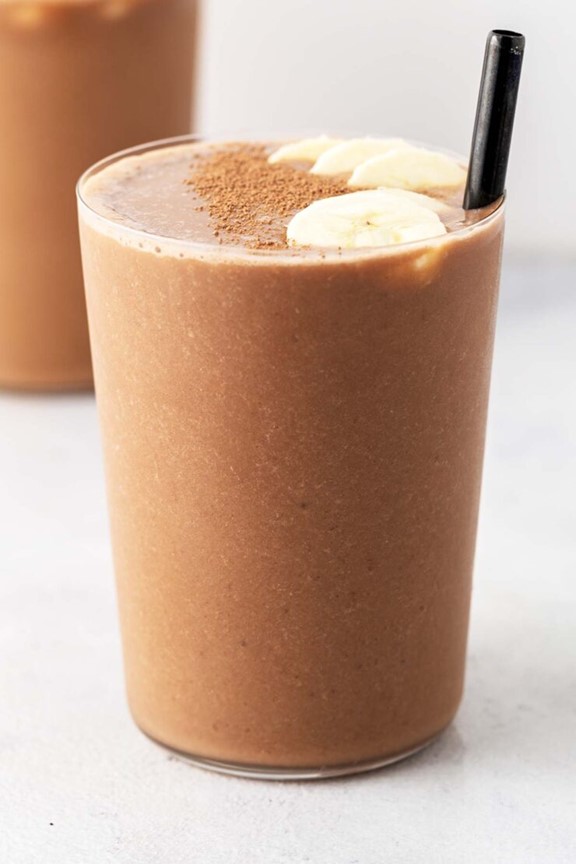 This chocolate collagen smoothie satisfies all your chocolate cravings and gives you a health boost with collagen peptides. With just five simple ingredients, you're sure to make this healthy smoothie over and over again to satisfy any chocolate cravings you happen to have. It's a great dessert smoothie that you don't have to feel guilty about when you have it.
Ingredients:
2 cups coconut milk, or other milk
1 frozen banana
2 tbsps. almond butter
1/4 cup raw cacao powder
2 scoops, or more Vital Proteins Collagen Peptides
So there you have it! Now you have recipes for 16 of the best smoothies you're ever going to taste in your entire life! These things not only taste good but they're also really good for you. If you love smoothies then you're going to really enjoy adding these to your recipe book. If you're just making the step into the smoothie world then these are great ways for you to get started. All you need are a few ingredients for each one and you're well on your way to having some of the best food of your entire life.
You'll want to have your favorites over and over again and you can make plenty of them with leftover fruits and vegetables. Just pick one and give it a shot. You're going to find a whole new way of enjoying your health foods and you'll start to feel better in no time at all. The better you feel, the more likely you'll be to continue down your smoothie path. Start enjoying healthy foods today and nothing will stop you from enjoying every meal you have on a daily basis!